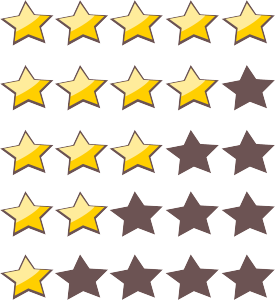 If your law firm keeps an online presence, or is planning on becoming more active on the internet, then maintaining online reviews is an absolute must.
Just like Amazon allows its users to review products from night lights to books, sites like Facebook, Yelp, and Google allow people to praise or damn local businesses online. For many hardworking attorneys that bend over backwards for their clients, this can be an excellent opportunity to for people to publically recommend your firm. However, even perfect attorneys with flawless records can be worried about that client that was never going to be satisfied, no matter what.
Regardless of whether your firm has been getting good online reviews, bad ones, or none at all, a common question is whether anyone actually reads them. According to a recent BrightLocal survey, the answer is an overwhelming yes.
92% Read Online Reviews of Local Businesses
According to the survey, 33% of consumers regularly read online reviews to determine whether a local business is a good option. Another 59% say they occasionally read them, leaving only 8% who don't consider online reviews.
Perhaps even more striking than the overwhelming consensus is the trend that has been developing over time. The number of people who don't look at online reviews when looking for a local business has been shrinking considerably. Last year, it was 12%. In 2010, it was 29%. If the trend continues, nearly everyone will be paying at least some attention to online reviews in the coming years.
More People Need Fewer Reviews to Form an Impression
According to the survey, while relatively few people (5%) form an opinion on your business after just a single review, 40% form one after reading fewer than three. However, not just any old review will do: Potential clients do pay attention to how recently the reviews were made, with only 6% considering a review made more than a year ago.
While this means that anomalous reviews have the potential to be debilitating, if there aren't good reviews alongside them, ancient reviews that criticize your firm are likely to be seen as stale, and overlooked.
Takeaways For Your Law Firm's Online Marketing and SEO Strategy
The results of the survey are complex, and lots of analysis can be done. What's clear, though, is that keeping track of what people are saying about your law firm online has become more and more crucial for your online marketing goals. You could have an attractive website, excellent search engine optimization (SEO) implementation, a quality legal blog, and a bustling social media presence. However, if people aren't satisfied with their experience with your firm, and take to online review boards to vent about it, your efforts won't have the benefits you might have anticipated.