You're an attorney, not a marketer. Just like you don't expect your clients to come to the table with a full understanding of due process, or res judicata, or respondeat superior, you shouldn't be expected to completely comprehend SEM, SERPs, or bounce rates before having a discussion about your firm's online marketing efforts. It's precisely because you don't know that you're hiring a professional.
On the Myers Freelance blog, we go to great lengths to give you the basics of these marketing terms and techniques, so you have an idea of what's going on with your website. Today, the topic is SEM, or Search Engine Marketing.
Related: Search Engine Results Pages (SERPs)
Related: Organic v. Paid Traffic
First, Some Context: Search Engine Optimization
The phrase "search engine optimization," or "SEO," is everywhere. It's the practice of crafting a website, and the content on that website, to cater to search engines like Google or Bing or Yahoo! Search. When a website is optimized for search engines, it makes it easier for those search engines to index and rank the site, giving the site a boost in online prominence.
SEO, however, is not the only way to advertise online, using search engines. There are other methods of online marketing as well, the most prominent among them being paid advertising.
Both Meanings of Search Engine Marketing
Search Engine Marketing, or "SEM," goes beyond just SEO. Unfortunately, in the rapidly-evolving, Wild West that is online marketing, there are two camps who disagree on exactly what SEM includes. For the uninitiated, this can create confusion.
With a little help from John Venn, Myers Freelance is here to help.
Camp #1: SEM = All Search Engine Marketing
One group holds that the field of SEM includes everything in search engine advertising. To the followers of this line of thought, organic SEO, paid advertising, and even social media marketing (SMM) all fly under the unified banner of SEM, much like tax attorneys, public defenders, and in-house counsel all fall into the same category: Lawyers.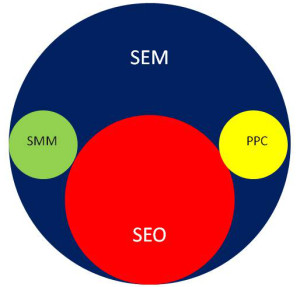 Camp #2: SEM = Paid Search Marketing
There is, however, another line of thought on this topic. To this other group, SEM means only the opposite of SEO. While SEO deals with earning online prominence for free, SEM is concerned only with paying for online prominence through pay-per-click (PPC) campaigns or other methods. To this group, SEO and SEM are distinct from each other. To add further confusion, this camp maintains that both search engine optimization and search engine marketing are both included in the wider field advertising that they call simply "search marketing."
Myers Freelance – An SEO Firm for Your Law Firm
You can take a guess which camp Myers Freelance falls into. We like transparency and things that are easy to understand, almost as much as we like writing legal blogs that boost your firm's online prominence. Contact us today to get started on one for your website, and follow us on Facebook, Twitter, and Google+.